I'm celebrating my hometown roots with a denim rag wreath made from a pair of blue jeans.
We're a few weeks into summer break, and I'm getting itchy for a road trip. Hopping in the car and driving, with no specific destination or itinerary in mind is one of my favorite ways to explore this great land of ours.
So I'm super excited today to be joining the Great Southern Road Trip, hosted by Heather of Southern State of Mind.
Each day, bloggers will be sharing a bit of our hometowns. It might be a recipe, a craft, a little folklore, a tour of local sights, favorite shopping spots or something else that reflects the local character.
Be sure to come back on Saturday for your chance to link up your own southern city themed post. I can't wait to "visit" your hometowns.
I live in Greensboro, N.C., which was once the heart of America's textile industry.
Cotton, denim, rayon, ticking, rayon, polyester, knit fabrics were all once produced in local textile mills. Greensboro-based Cone Mills was once the world's largest producer of denim. Because of the changing global economy, most of the mills have closed and textile production has moved to other parts of the world.
But denim remains an important part of the historical fabric of Greensboro. Cone still makes premium denim for Levi's famous 501 jeans and other brands at its White Oak plant in Greensboro. And Wrangler, another iconic American company, is headquartered here. It is part of the Greensboro-based VF Corp., the world's largest apparel and footwear company.
To honor Greensboro's blue collar, blue jean past, I decided to make a denim rag wreath from an old pair of jeans.
Disclosure: This post contains affiliate links. Read my full disclosure policy here.
To make a rag wreath of your own, you'll need these supplies:
I decided to give my rag wreath a little patriotic flair for July 4th, so I also used a red-white-and-blue banner kit and patriotic pinwheel stickers I purchased at the Target dollar spot. (You can find similar stickers here.)
Begin by bending the wire hanger into a wreath shape. It doesn't have to be a perfect circle. Close the top of the hanger into a loop using needle-nose pliers.
Cut strips of denim, about ¾ to 1-inch wide, from the legs of the jeans. Then, cut the denim strips into 8-inch pieces.
Tie denim strips onto the hanger, pull the knots tight. Slide the denim strips along the wire, nudging the knots close together, so there are no gaps.
You'll need lots of denim strips for this project. The exact amount will depend on the size of your wreath. And while your hands may tire of tying the denim, it shouldn't take you long to make the wreath.
Once the wreath is finished, string the patriotic bunting on twine. Add stickers. Be sure to leave enough twine at each end to tie the bunting on the wreath.
If necessary, trim the denim ribbons to remove any long pieces.
Before we head off to the next stop on the Great Southern Road Trip, I wanted to tell you a few more interesting facts about Greensboro:
The first sit-in during the Civil Rights Movement happened here when four students from N.C. A&T State University asked to be served at the segregated Woolworth's lunch counter.
The writer, William Sydney Porter, better known as O. Henry, was from Greensboro.
When the writer, O. Henry, was a teenager, he worked at a downtown drugstore owned by Lunsford Richardson. The pharmacist patented 21 different medicines, including what we now know as Vick's VapoRub.
Pioneering radio and TV broadcaster Edward R. Murrow is a native son.
Rock star Chris Daughtry, who competed on the fifth season of American Idol, is from Greensboro. He used to work at the local Honda dealership as a service advisor.
First Lady Dolley Madison was born here.
The headquarters of the ACC is in Greensboro.
Our region, known as the Piedmont Triad, is also home to the world's largest furniture trade show, the High Point Market. A lot of furniture sold throughout the world is designed and made here. We're also famous for our fabulous pork barbecue and as the birthplace of Krispy Kreme Doughnuts. (I coauthored a book about the company's rise to fame!)
These posts will give you more a taste of what life is like here in Greensboro and the Piedmont Triad:
Thrift & Antique Shopping in Greensboro
Now let's continue with the roadtrip. Don't forget to visit all these interesting blogs and places.
Start with my friend Ashley of 3 Little Greenwoods, who lives in my old stomping grounds of Aiken, S.C., then visit the rest of the destinations below.
THE GREAT SOUTHERN ROAD TRIP ITINERARY
Southern State of Mind {Atlanta, GA} | Restless Arrow {Belton, SC}
Southern Hospitality {Marietta, GA} | Our Southern Home {Caswell Beach, NC}
TUESDAY ROUTE: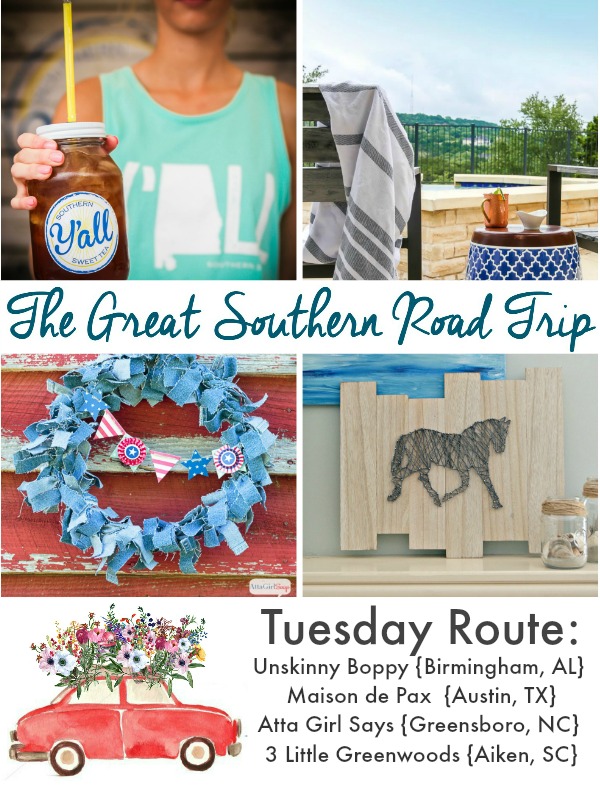 Unskinny Boppy {Birmingham, AL} | Maison de Pax {Austin, TX}
Atta Girl Says {Greensboro, NC} | 3 Little Greenwoods {Aiken, SC}
WEDNESDAY ROUTE:
Dixie Delights {Savannah, GA} | Slightly Coastal {Fernandina Beach, FL}
Uptown Acorn {Grand Isle, LA} | The House of Wood {Nashville, TN}
THURSDAY ROUTE:
11 Magnolia Lane {Southern Pines/Pinehurst, NC} | The Turquoise Home {Franklin, TN}
Duke Manor Farm {Pendergrass, GA} | Domestic Charm {Charlotte, NC}
FRIDAY ROUTE:
Our Fifth House {Charleston, SC} | At Home with the Barkers {Greenville, SC}
Simple Stylings {Mount Pleasant, SC} | Refresh Restyle {Bishop, GA}